>> Friday, April 27, 2012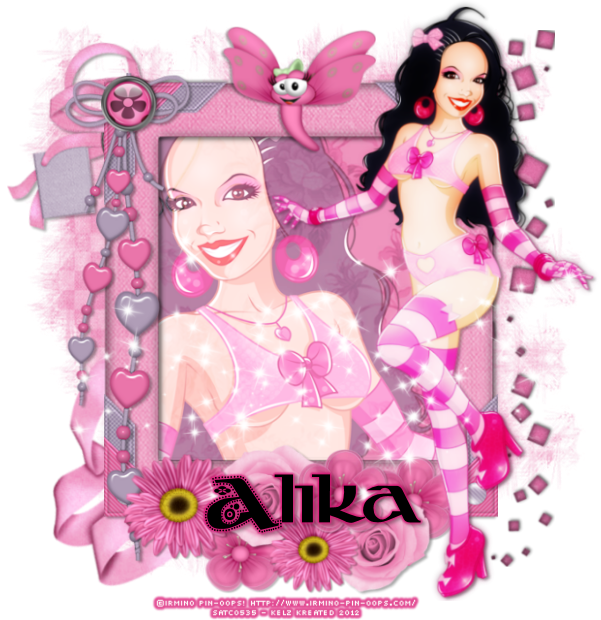 Please click tag to view full size.
This tutorial was written by me on 27 April 2012. Any similarity to other tutorials is not intentional.
Supplies:
Tube of Choice. I am using the awesome art of Pin Oops, I love this stuff! If you want to use the same tube you can purchase it, and a license to use it at
SATC
.
Scrapkit - I used a lovely spring kit called Floral Fantasy from Alika's Scraps, thanks hun! You can download the kit
HERE
.
Mask - WSL 297 which you can download
HERE
.
Font - I used Kingthings Kelltica.
Don't forget to leave some love when you download!
Filters -
Eye Candy 4000 - gradient glow
Xero Radiance
Open a new canvas 700 x 700, floodfill white. Copy and paste a frame, I used the pink one, element 70 and re-sized it 125%
Click inside it with your magic wand. Selections, modify, expand by 5. Copy and paste paper 05 as a new layer under the frame layer. Selections, invert delete. Copy and paste your close up tube position to the left. Selections
invert, delete,select none. Duplicate the tube layer. On the copy, change the blend mode to screen. On the original change the opacity to 32.
Drop shadow the frame layer.
I like to add my main tube early in the tag, it helps me to place everything. So, copy and paste your main tube as the top layer on your tag.
Copy and paste one of the corners, I used element 53. Duplicate image mirror. Merge down. Duplicate image flip, merge down again. Drop shadow
Copy and paste paper 11 above your background layer. Load mask, merge group.
Copy and paste element 93 and position to the right of your tag, above the mask layer, drop shadow.
Copy and paste element 02 and re-size about 70%
Copy and paste a ribbon, I used element 11. Re-size 70%. You might want to rotate it a little. Drop shadow.
Copy and paste element 78, re-size 80% and position on the left side of the frame, drop shadow.
Copy and paste element 14, re-size about 45%, drop shadow.
Copy and paste element 29, re-size about 70%, image mirror & drop shadow.
Copy and paste a few of the flowers and spend about 15 mins re-sizing and re-arranging!!
Go back to your main tube layer. Effects, Xero Radiance. Click random until you get the effect you like. Duplicate the tube. On the duplicate layer, adjust blur, gaussian blur 4. Change the blend mode to soft light. Drop shadow the original tube layer.
Crop your tag and re-size. Add sparkles!
Finish with your name and artist's credits, and you're done!