>> Saturday, July 21, 2012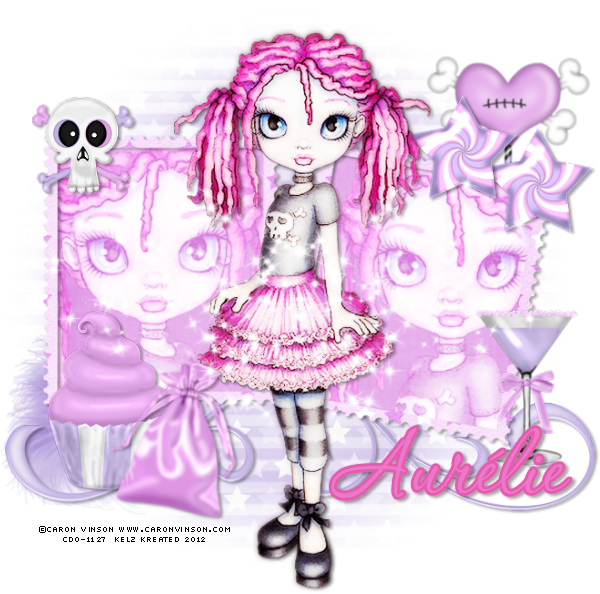 Please click tag to view full size.
This tutorial was written by me on 21 July 2012. Any similarity to other tutorials is not intentional.
Supplies:
Tube of Choice. I am using a gorgeous tube by Caron Vinson. If you want to use the same tube you can purchase it, and a license to use it at
CDO
.
Scrapkit - I used a PTU kit from Aurélie, Pink Candy Designs. You can purchase this kit at Scraps and the City
HERE
Mask of choice. I used WSL 12 which you can download
HERE
Don't forget to leave some love when you download!
Filters - Xero Radiance
Font of choice, I used P22 Corinthia.
Let's start!
Open a new canvas 700 x 700, floodfill white.
Copy and paste frame 2 as a new raster layer. Use your magic want to select inside both frames. Selections, modify, expand by 3. Copy and paste paper 2 as a new layer, resize 80%, selections, invert, delete. Move this layer under your frame layer. Copy and paste your close up tube, and hit delete again once you have the close up where you want it. Select none. Merge these two tubes together. Drop shadow your frame layer.
Duplicate your tube layer. Change the properties of the original tube layer to soft
light and the duplicate to screen.
Copy and paste your main tube now, so you can better where to place elements.
Create a new layer above your background layer. Selections, select all. Copy paper 4 into selection, select none. Apply your mask and merge group. I had to re-size mine a bit bigger to make it visible.
Copy and paste the feather above your mask layer. See my tag for placement.
Copy and paste the doodle, drop shadow.
Copy and paste lollipop 3, re-size 60%. Rotate right 20 and drop shadow.
Copy and paste the tag above your frame layer, rotate left 20. Re-size 60% and drop shadow.
Copy and paste skull 2, re-size 50% then 70%, sharpening after each re-size, drop shadow.
Copy and paste the star, re-size 40%, drop shadow. Duplicate & place over the
top right corner of the frame.
Copy and paste martini. Re-size 70% twice, sharpening. Drop shadow.
Copy and paste cupcake, re-size 60%, sharpen (always sharpen after re-sizing), drop shadow.
Copy and paste the bag, re-size 65%, image rotate right 10, drop shadow.
Go back to your main tube layer and make sure you're happy with the placement. Xero Radiance with these settings:

or choose your own settings.
Duplicate the tube and on the copy adjust blur, gaussian blur 3, change the blend mode to soft light. Drop shadow the original tube layer.
Close your background layer and crop your tag. Re-size to 600 on the longest side
or whatever size tag you prefer.
Copy and paste sparkles. I duplicated and mirrored the sparkles.
Add your name and copyright and you're finished!